It is not easy for anyone to put themselves out there, let alone those who face the stigma of incarceration. For this reason, we are grateful to our friends who have come forward to share their stories. Their courage and determination inspire us at Lakeside to persevere in our mission to change lives and transform communities.
We hope more people will extend compassion and understanding to (ex-)inmates and their families and support them as part of our community. Thank you for reading these stories from our staff and beneficiaries.
"It is not a race where the faster runner wins but a walk where no one walks alone, and no one is left behind."
"During the darkest times of our lives, we all need someone to walk with us to comfort and support us. For me, this year has been the darkest in my life with the passing of my beloved wife Serene. I do this walk in her honour, and for the sake of the many families who are going through difficulties and loss of their own.
The idea of doing a Cross-Island Walk first came three years ago in 2020, at the height of the covid-19 epidemic. At that time, we were trying to think of a meaningful way to raise funds for our work with (ex-)inmates and their families, given the restrictions.
This is a long walk across Singapore, from Jurong to Changi , and represents our commitment to help for the long haul despite the challenges. It is not a race where the fastest runner wins, but a walk where no one walks alone and no one is left behind.
Life circumstances are difficult and sometimes, we end up in situations we did not expect or wish for. People make mistakes and deserve a second chance. For the sake of their families and the next generation, let's walk with (ex-)inmates and their families to help them break the cycle of addiction and incarceration.
Join me and my colleagues in our #WalkingWithYou campaign, and show your support for the (ex-)inmates and families we serve. You can help by donating, adding your steps to the cause, or even starting your own fundraiser @ bit.ly/lakesideamillionsteps.
Thank you for your support!"
– Tee Loon (Executive Director)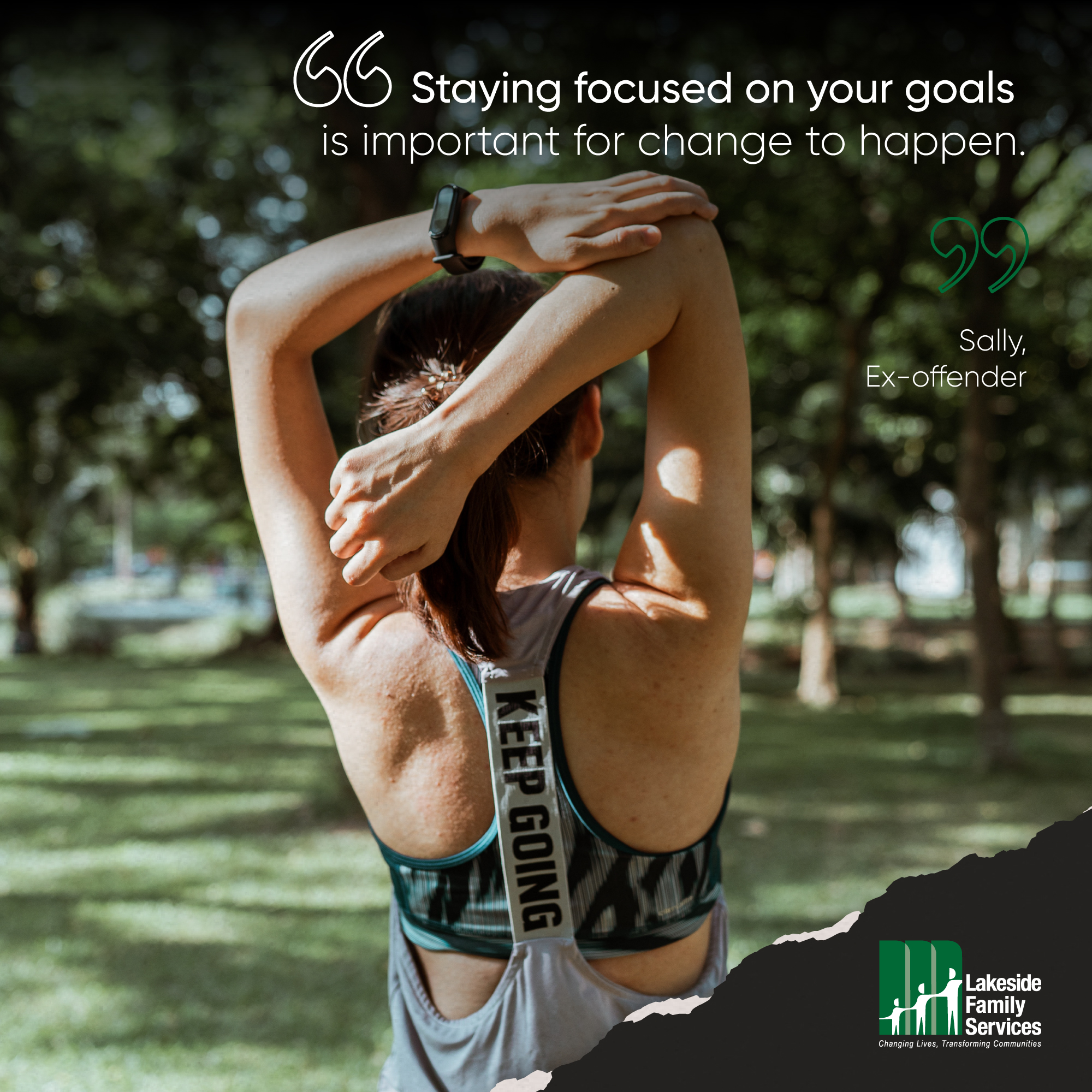 "Staying focused on your goals is important for change to happen."
Like many young women, she felt an immense pressure to be thin. It all started with a misguided attempt to lose weight when Sally (not her real name) had her first encounter with drugs.
She had plans to become a teacher, but those dreams were derailed when she was incarcerated for drug use. After her release, she struggled to gain acceptance from her family and community. The rejection was hard to bear, so the drugs became her escape. After the third incarceration, she was determined to break away from the vicious cycle once and for all.
With help from her Lakeside counsellor, Sally has been hard at work rebuilding her family relationships. Her achievements include securing a permanent job at a renowned organisation, despite the discrimination she faced during her job hunt. She even took a part-time course in social work, where she hopes to one day use her experience to help other ex-offenders.
Now, Sally is finally at peace with herself. She takes care of her body and exercises to keep fit. While she has found her way, she couldn't have done it without the support and understanding of those around her. That is what Lakeside Family Services hopes to provide for ex-offenders and their families. – Sally (Beneficiary)
"Each life rescued and transformed is a trophy of joy because we are fellow humans."
"I have only one life, and I think two-thirds of it is already gone. But before it passes, I want to live it as best as I can. That is why even though I earned much more in the IT industry, I chose to become a counsellor. I wanted to do something more meaningful, rather than facing the computer. Now, instead of business projects, human lives are assigned to my care. And instead of dollars and cents, we restore precious lives.
Coming from a broken family, I see myself in the inmates I serve. I feel I wear similar shoes even though my own path did not lead me to prison. Although I sometimes feel so helpless in not being able to help every single inmate, I know that every small step we take makes a difference.
How do we see and value a human life? To me, each life rescued and transformed is a trophy of joy because we are fellow humans. It gives us all hope that change is possible. We never know – As long as there is life, there is always hope. In learning to help them, I have come to know and help myself. – Edward (Counsellor)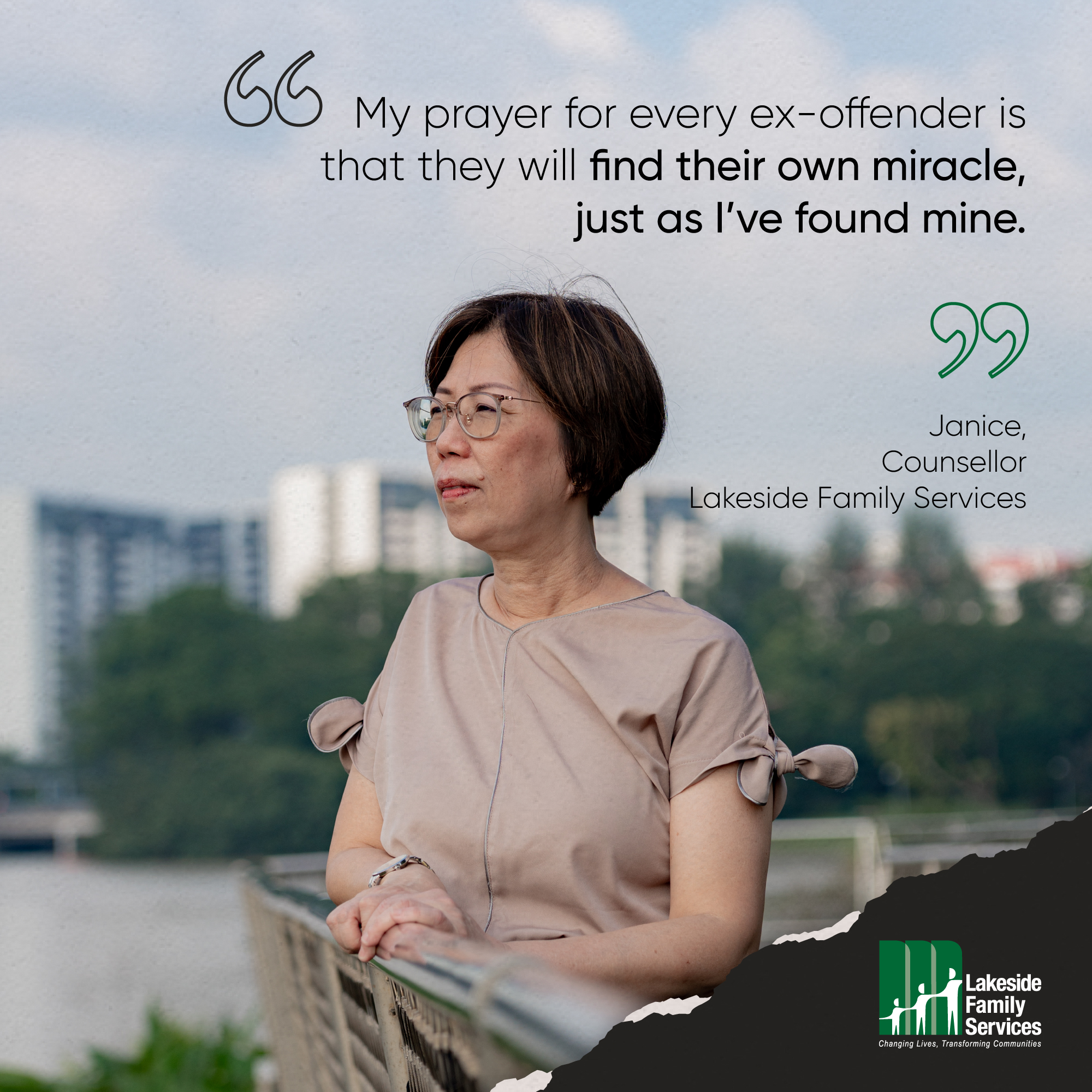 "My prayer for every ex-offender is that they will find their own miracle, just as I've found mine."
"After 25 years as a housewife, people were surprised to hear I restarted my career by working with prisoners and their families. Case management is intensive and often filled with shock and surprise. There are days when I would wake up with clients calling me to tell me about marital or family conflict, critical health issues or mental health issues.
Being in this role for 3 years, I'm often asked by family and friends whether I'm happy doing this work. To be honest, I find it difficult to give a resounding "Yes". That's because the clients I serve often go through a challenging recovery journey. I had a client who was ready to change for the better but his loved ones had aged and weren't in good health to lend him their support.
As a counsellor, I aim to be purposeful in helping them develop better coping strategies, find stability after release, and break away from addiction. My prayer for every ex-offender is that they will find their own miracle just as God has created this miracle for me to step out from my narrow life as a full-time housewife to be a counsellor in prison work. May they find it despite the adversity of their circumstances." – Janice (Counsellor)
"In many ways, a long walk is a reflection of our work with our clients – it's challenging and sometimes detours happen."
"Last year, I took part in the 40km overnight walk for #AMillionSteps, and quickly realised the walk was much harder than I expected. I almost gave up, if not for my husband who walked with me, encouraging me and pushing me along the way. The last 7km was the toughest. I struggled to even lift my legs. To make matters worse, we followed a wrong path! Although I was totally exhausted at the end, I was glad that I managed to complete the walk.
In many ways, the Cross-Island Walk is a reflection of our work with our clients. It's long, challenging, difficult, and sometimes detours happen. As a counsellor working with ex-offenders, I believe no one wilfully chooses to go to prison, or spend many years in and out of prison.
There are often precipitating and perpetuating factors trapping them in these cycles of incarceration. The long journey of reintegration belongs to them and they will have to overcome life's challenges. However, by choosing to journey with them, we give them the support they need for successful rehabilitation." – Jenny (Counsellor)
"To love myself, focus on my family and to turn to my counsellor whenever I'm down These are the things that kept me on track to change."
Hanna (not her real name) was first exposed to drugs when she saw her friends using them. As a naïve 18-year-old, she became curious and tried it. This was the start of her addiction, and ended in multiple prison sentences for drug consumption.
In her latest incarceration, Hanna was determined for it to be her last. Instead of simply biding time like she did in the past, she wanted to make full use of her time in prison to learn and make a lasting change in preparation for a second chance at life.
In prior prison terms, Hanna's parents visited her every two weeks. However, during this latest sentence, her mother did not visit her in the initial 3 years. Her father only visited her once a month, though he had never given up on her.
This saddened her more than anything. Finally realising how much she had disappointed her parents, Hanna became motivated to change. Instead of bottling it all up inside, she began to engage more with her Lakeside counsellor whenever she was feeling down or facing problems. In turn, her counsellor not only provided a listening ear, but also offered practical advice, supporting her through the various challenges she faced.
Since then, Hanna has shown great improvement in her attitude towards rehabilitation, no longer turning to drugs as an escape whenever she felt overwhelmed. Instead, she learned to resolve issues by talking them over with her counsellor. Today, she is determined to stay the course and pave a new way ahead, far away from drugs. – Hanna (Beneficiary)
"Every successful case is like a starfish. Each one I pick up and throw back into the surf reminds me that every life I touch matters."
From secret society leader, to an advocate for rehabilitation and reform, Chris is deeply passionate about positively impacting the lives of others who were like him. As a reformed ex-offender himself, Chris understands the seemingly overwhelming challenges and stigma faced by (ex-)inmates and their families as they begin their arduous journey towards reintegration. – Christopher  (Social Work Executive)
"Each and every day, I am focused on taking small steps towards leading a more purposeful life."
Julian (not his real name) was 28 years old when, out of idle curiosity and the desire to be accepted by his peers, he began experimenting with drugs. Before long, it became an addiction which led to 3 terms in prison. What pained Julian the most was the disappointment and tears in his family's eyes when they visited him in prison. Even more heart-breaking was that his father passed away before Julian could make good on his promise to change.
He turned to his counsellor at Lakeside Family Services for guidance and was helped in making small steps to move forward. His counsellor supported him through his stint as a forklift driver, where he overcame his fear and anxiety and managed to sustain employment. His family also noticed his willingness to embrace change and set clear goals for himself.
These days, Julian is calmer and striving to lead a more purposeful life. Despite initial setbacks, he persisted in finding meaningful work he felt passionate about. Recently, this vision became a reality when he began a new job caring for the elderly at a nursing home. He assists them in their daily activities, makes them laugh, and connects with them in the way he wishes he had with his late father. – Julian (Beneficiary)
"What motivates me to push forward is believing that one day, they too will reach their turning point."
Once a troubled youth himself who had seen his fair share of difficult times, Derance has since turned his life around for good. Today, as a Counsellor at Lakeside's Prison Support Services, he dedicates his life to helping his clients get back on their feet, and back on the path to a better life and future. – Derance (Counsellor)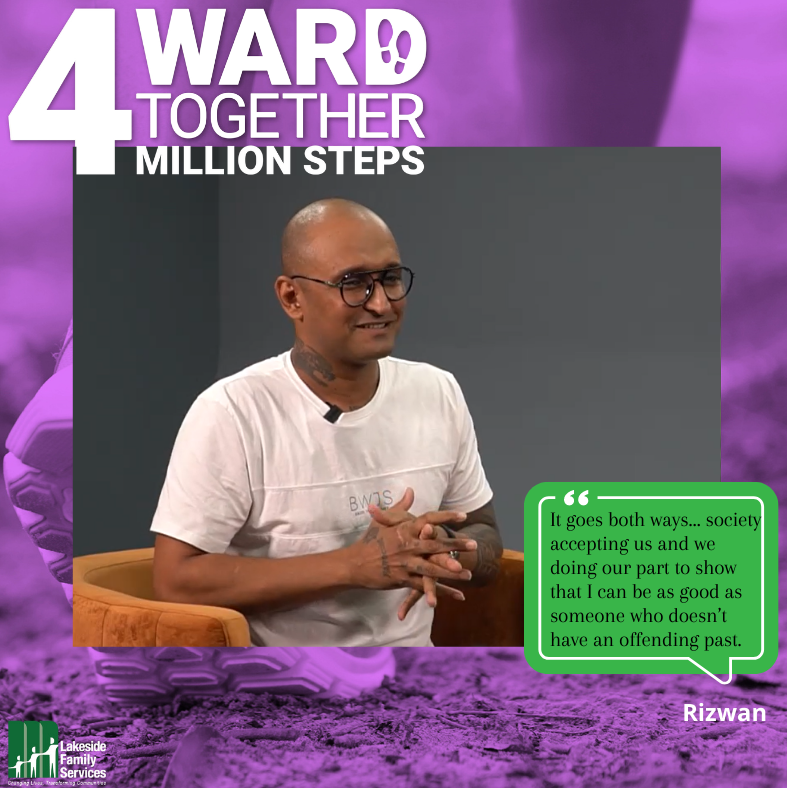 "It goes both ways…. society accepting us and we doing our part to show that I can be as good as someone who doesn't have an offending past."
Rizwan was first sent to a Boys' Home at 12, and has been incarcerated 6 times since then. Now at 39, he is taking a degree in social work, and is now an inspiration and a source of encouragement for his friends and those who have to restart their lives after being released from prison.
"We are the same, nothing differentiates us," says Rizwan, one of our beneficiaries, who is grateful that he can still count on our counsellor for good advice, even though he is no longer under our case management today. – Rizwan (Beneficiary)
"I tried drugs for the first time at 17 years old, and was incarcerated for drug consumption and vehicle theft. My greatest fear is to lose my family – but during my imprisonment, my mother passed away and I had to say my last goodbye to her in handcuffs. My father is in his eighties now and I don't want to disappoint him or make him worry about me anymore.
Fortunately for me, Lakeside's Case Manager has been very helpful, guiding me along the way and helping me to complete my driving license course. This is the first time I have successfully completed a programme in my life, and I am thankful to be able to broaden my employment options and focus on new goals in my life." – Johari (Beneficiary)
"I was introduced to drugs in my mid-20s and was incarcerated three times. My marriage and my relationship with my children broke down, and I felt alone and angry all the time. But I am very thankful for my case manager from Lakeside, who listened to me patiently and always personally made effort to visit me and my family. She has helped me rebuild my confidence, and given me the courage to walk out of the circle of negative vices.
I'm 50 now and I don't want my children to grow up not having a good father figure or role model. I learn to rely on God's Word and count my blessings, and I hope that I will be able to reconcile with my children one day." – Charles (Beneficiary)
"I know I have made a mistake, and have suffered the consequences. But the most important thing is not to give up hope. It's not worth it to go back to prison. You must walk away from your old friends who were negative influences, and form a new community of friends.
I was young and reckless, and was involved in armed robbery to feed my drug addiction. I was introduced to drugs at 17 years old by my friends. When I went to prison, my parents were shocked and saddened by the incident, yet they remained supportive. I am 55 now, and am drug-free thanks to my Case Manager from Lakeside Family Services who guided me, supported me emotionally and journeyed with me and my family all the way without judgement. I'm thankful now to be able to eat with my family every day, and look after my wife and son, making sure I meet their needs." – Andy (Beneficiary)
"I wanted to go home."
As a teenager, Kat (not her real name) lived a fun and carefree life. Having a supportive family, she didn't need to worry much and thought that she had it all. She was introduced to drugs by her peers at age 16 and since then, she has been in and out of prisons nine times.
Her turning point came after her mother's passing and she wasn't able to say her final goodbye as she was in prison. With the support of Lakeside Family Services, she had a counsellor to turn to for a listening ear, direction, and getting help with her struggles. A volunteer buddy also journeyed with her, becoming her friend and making sure she has the support she needed.
She is currently doing well, and has been drug free since, performing well at her job as a customer service officer, and adjusting well to play the role of a wife.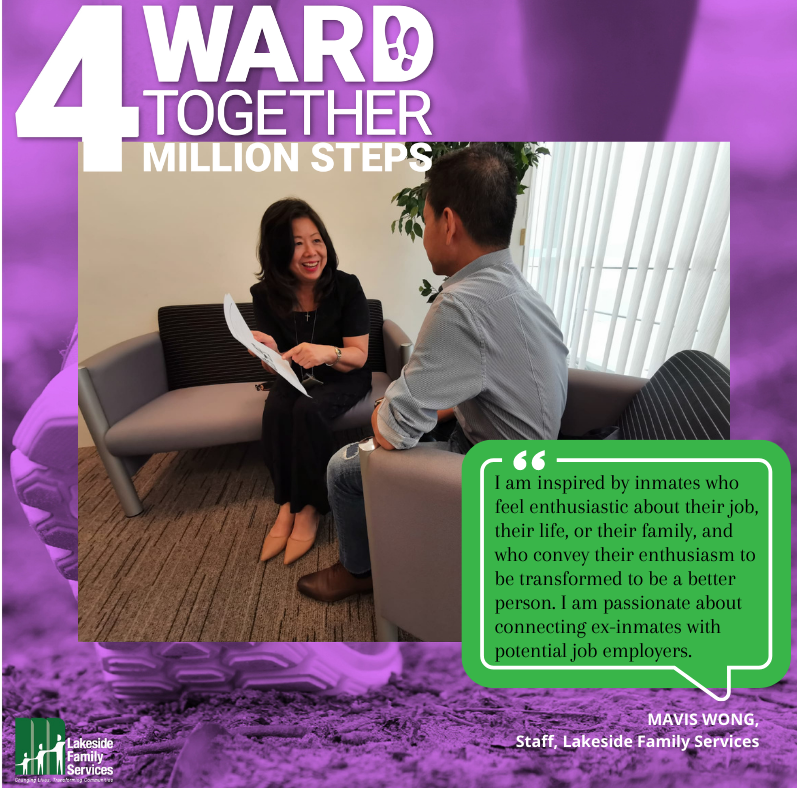 It takes family, volunteers, counsellors, social workers, potential employers etc. to help our ex-inmates reintegrate back into society. We all can play a role and for Mavis from Lakeside Family Services, she shares that she is "inspired by inmates who feel enthusiastic about their job, their life, or their family…. and passionate about connecting ex-inmates with potential job employers." Helping ex-inmates find a suitable job is one of the most important first steps in helping them reintegrate back into society. – Mavis (Counsellor)
Lakeside Family Services works closely with community stakeholders and employers to assist (ex-)inmates in finding the right job fit and reconnecting with society after their release. Mavis, our Assistant Senior Counsellor at Lakeside Family Resource Centre, shared that she is inspired by inmates who are enthusiastic about wanting to be a better person and that drives her passion to want to help connect the to the right jobs.
​One of the employers whom Mavis has​ connected our beneficiary with is Mr Bryan Loh, Operations Director of Kim Soon Lee (S) Pte Ltd, who believes in giving our beneficiaries a second chance.
"Thank you, Daddy."
An avid long-distance runner since primary school, little did Zulkifli expect that he would spend most of his adulthood running away from his past. He had a lifelong struggle with drug addiction, leading to two near-death experiences. The love of his family brought him back from the brink and gave him the strength to transform his life:
"My dad told me, the third time, maybe you won't have a chance. That is why I need to turn back time, I need to turn back the clock. I'm doing this for my family. My younger brother is a drug addict, incarcerated now. I need to show him that we can change; We can do it together.
The strongest words that give me the motivation are "Thank you, Daddy." Even small things like cooking instant noodles for my son, he comes to me and says: Thank you, Daddy. Those 3 words give me the burning desire to be someone they can look up to. And my wife is amazing, I'm fortunate… I'm very much excited to be living the life I'm supposed to live, and it is what I can actually see as life."
Since his release after serving time for drug-related offences, Zulkifli has been determined to stay on the right path. His case manager at Lakeside walked with him on his journey of rehabilitation, providing counselling and coping strategies to remain drug-free. Lakeside also helped his family by linking them to community resources, such as getting sponsored groceries delivered to his house during Circuit Breaker.
With the support of his loving family and Lakeside, he is gainfully employed and aspires to be a mentor to others, knowing full well that the path to acceptance and rehabilitation is not a sprint, but a lifelong marathon.
"Once you break the family up, habis (that's it)."
I met Zul when he was about to complete his NS. We were hanging out, both single and very close. I fell in love probably because he's a good-looking guy lah! But it was also the way I saw him with his parents. He's family-oriented, humble, down-to-earth.
We've been married for 19 years. I first had our daughter, Batrisya. Our son Akif was born 6 years later, they have the same birthday!
When I found out Zul was repeatedly taking drugs, I was upset, disappointed, angry. I didn't expect him to relapse. During those periods, it was mentally torturing for me as I had little support.
I struggled with finances as I had to support my children. I sought financial help, and the parents also helped me. I rented out a house so I could pay a maid. It was too hard to cope – I was working by myself, and my mother-in-law is not young either.
Even though I can show that I'm strong, I still have to go step by step. Work, children, husband – I have to be mentally strong. Family is very important. Once you break the family up, habis (that's it). So, despite the challenges, I hold on to the value of family. For example, I would bring the parents along for our Tele-visits with Zul. During these calls, Zul and I try to support each other in our issues.
For face-to-face visits, when you meet through the glass, you can't help but feel fed up. There is no touch, no feeling. I told him to stop this, and not let his kids grow up seeing him through the glass.
It occurred to me that since he's been in, out, in, out of prison, I could have found someone else, but I did not want to. I realised the children need their father, and he is a family man at heart.
Although it has been a difficult journey, what kept me going was believing that one day, Zul would change. I set a goal; I visualise the things I want. I try to set things in place for the family. My plan for us is to be a happy and united family as we move forward together. My desire is for Zul's parents to be proud of their son too.  
If Zul can be a mentor to others, it would be good for the community. As a wife, I believe in second chances. I encouraged Zul to take counselling courses so he can contribute to society in a meaningful way.
We want to see the children grow and be good people. I want Batrisya and Akif to get their degree and have a good life… apply their experiences to helping others. I don't want them to struggle like I did. This is the life I've been through; they don't have to repeat the cycle. They can be proud of themselves for achieving their goals. One day, I hope they will appreciate what we have done for them. 
The journey may be long and difficult, but I encourage those whose family members are incarcerated to never give up: Seek professional help like counselling when needed and remember you are never alone. Through my story, I hope to inspire others. All this while I've been getting help, but now it's time for me to help others.
"Kor Kor, thank you for giving up your leg for me."
Known as a swimming champion to his childhood friends, Tan Lee Chiew's lifelong ambition was to become a professional diver. However, he was introduced to drugs by his peers, and everything spiralled out of control. His brother, heartbroken over Lee Chiew's drug addiction, attempted suicide. He survived, but was left a paraplegic with mental health issues.
Lee Chiew had tried to grab onto his brother but failed, ultimately witnessing his fall from the 4th floor. Wrecked with guilt, he blamed himself for his brother's predicament. In prison, he found God and the strength to overcome the urge to take drugs. After asking his brother for forgiveness, they reconciled.
While on the Work Release Scheme (WRS), Lee Chiew learned that his father was diagnosed with terminal kidney failure. There was nothing he could do for the father he loved dearly. He suffered another blow last year with the passing of his father, who had wanted to see him complete the WRS programme.
"I was able to return home to spend quality time with my father. Although my father was not healed eventually, I am truly grateful to God for the opportunity to journey with him until his last breath. He provided me the chance to be with my father, to see him for the last time and even be present at his wake."
Lakeside has been working steadily with Lee Chiew, providing counselling and case management. He felt the sessions were helpful as he could turn to his case manager for support whenever he felt downcast or overwhelmed. He no longer bottles up his feelings, and learned to focus on his motivations for staying drug-free.
Today, Lee Chiew is on a better path, volunteering with other ex-inmates to serve the elderly and training to become a volunteer counsellor. He leads a quiet life at home, fulfilling his father's last wish by taking care of his mother. He is also active in church activities and swims in his free time.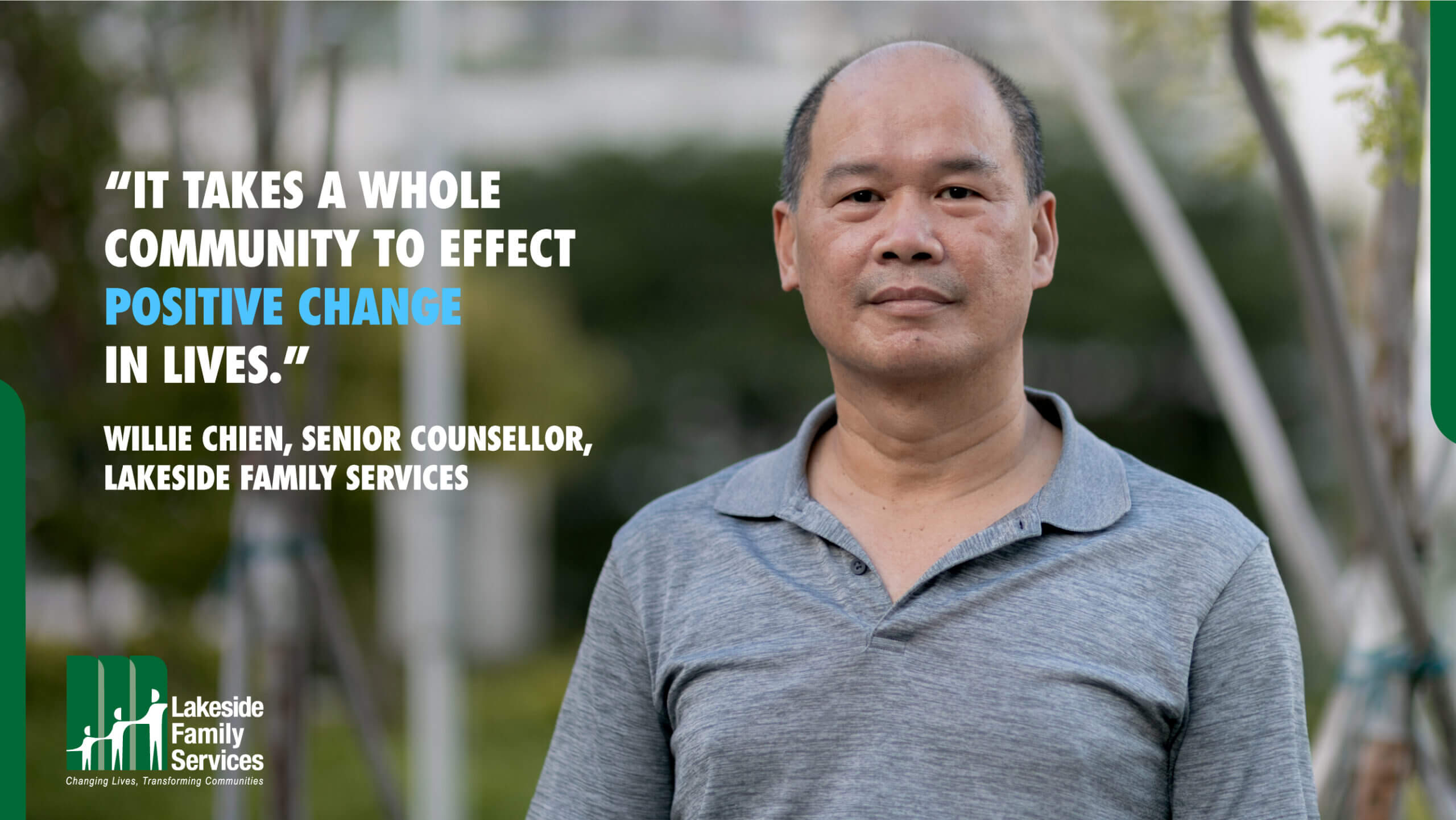 "It takes a whole community to effect positive change in lives."
I am determined to walk 100,000 steps (80km) for (ex-)inmates and families. Rain or shine, I have taken leave to go on 5 long walks, with at least 20,000 steps each time.
Having served prisoners since 2015, I have a fond memory of an older ex-inmate. He was by himself, with no place to stay upon his release. Due to health issues, he feared he would not be able to survive on his own. Eventually, I found a nursing home that gave him a place to stay.
On the day of his release, I accompanied him to the nursing home. I saw how his face brightened up when he was shown his new home! He was very thankful for my help. That's the joy and satisfaction of working with the incarcerated.
On 23 Oct, I will walk 35km from Lakeside to Changi with a few like-minded fellows. Nothing can relieve my body aches more than knowing you give because you believe in what we're doing. We can't do all these works alone. It takes a whole community to effect positive change in lives.
"The journey to reintegration is long, but it begins with a single step"
I made a mid-career switch at the age of 45 to become a social worker. It has not been easy but it opened my eyes to the struggles that some individuals and families face daily, and I learned to be grateful for the little things I have in life.
As caseworker under the Prisons Team at Lakeside Family Services, I work with inmates under the Work Release Scheme to help them reintegrate into society. It was the first time I saw how prison looks like from the inside and had a glimpse of the challenges in their lives.
It has been a very satisfying journey, especially when I saw how a supervisee who lived a life of drugs and crime changed his life around, after he scored straight 'A's in prison school, and realised he could study! He studying social work course (YES!) and his dream is to help those going through the same struggles and give back to society.
It is a beautiful story and there are a lot more, of inmates overcoming their addictions and the families who did not give up on them. They need your support & encouragement and your donation will go a long way.
To my family, friends, ex-colleagues, ex-students, and all whom I have crossed paths with, thank you for journeying with me. I am grateful for your contribution to support my 35km walk from Lakeside to Changi Prison. Thank you!
"When we look beyond the label, we'll discover the potential to change, inspire and guide others."
I am a counsellor currently working with inmates and their families, where I provide services such as case management.
In the course of my work, I have encountered several challenges faced by the inmates and their families. Amidst the challenges, I have also witnessed their tenacity and strength, including their hopes, dreams, and aspirations, such as becoming a volunteer counsellor to give back to society meaningfully.
Please join me as I embark on this campaign to raise funds to help ex-inmates and their families. Even a little donation goes a long way in helping them fulfil their dreams and raise awareness that beyond the label, lies someone special like you and I: A son, a father, a husband longing to make their family proud once again.
Thank you for reading and for your generous donation. It is certainly much appreciated.
Lakeside is able to provide quality services such as casework and counselling for inmates because of everyone's support!
We are pleased to share with you the warm feedback our staff have received from three inmates: One who has never had counselling, one who successfully completed a programme for the first time, and one who says his life was "filled with angst" but he finally found "confidence and faith in life".
More stories coming soon…