It is not easy for anyone to put themselves out there, let alone those who face the stigma of incarceration. For this reason, we are grateful to our friends who have come forward to share their stories. Their courage and determination inspire us at Lakeside to persevere in our mission to change lives and transform communities.
We hope more people will extend compassion and understanding to (ex-)inmates and their families and support them as part of our community. Thank you for reading these stories from our staff and beneficiaries.
"I wanted to go home."
As a teenager, Kat (not her real name) lived a fun and carefree life. Having a supportive family, she didn't need to worry much and thought that she had it all. She was introduced to drugs by her peers at age 16 and since then, she has been in and out of prisons nine times.
Her turning point came after her mother's passing and she wasn't able to say her final goodbye as she was in prison. With the support of Lakeside Family Services, she had a counsellor to turn to for a listening ear, direction, and getting help with her struggles. A volunteer buddy also journeyed with her, becoming her friend and making sure she has the support she needed.
She is currently doing well, and has been drug free since, performing well at her job as a customer service officer, and adjusting well to play the role of a wife. 
"Thank you, Daddy."
An avid long-distance runner since primary school, little did Zulkifli expect that he would spend most of his adulthood running away from his past. He had a lifelong struggle with drug addiction, leading to two near-death experiences. The love of his family brought him back from the brink and gave him the strength to transform his life:
"My dad told me, the third time, maybe you won't have a chance. That is why I need to turn back time, I need to turn back the clock. I'm doing this for my family. My younger brother is a drug addict, incarcerated now. I need to show him that we can change; We can do it together.
The strongest words that give me the motivation are "Thank you, Daddy." Even small things like cooking instant noodles for my son, he comes to me and says: Thank you, Daddy. Those 3 words give me the burning desire to be someone they can look up to. And my wife is amazing, I'm fortunate… I'm very much excited to be living the life I'm supposed to live, and it is what I can actually see as life."
Since his release after serving time for drug-related offences, Zulkifli has been determined to stay on the right path. His case manager at Lakeside walked with him on his journey of rehabilitation, providing counselling and coping strategies to remain drug-free. Lakeside also helped his family by linking them to community resources, such as getting sponsored groceries delivered to his house during Circuit Breaker.
With the support of his loving family and Lakeside, he is gainfully employed and aspires to be a mentor to others, knowing full well that the path to acceptance and rehabilitation is not a sprint, but a lifelong marathon.
"Once you break the family up, habis (that's it)."
I met Zul when he was about to complete his NS. We were hanging out, both single and very close. I fell in love probably because he's a good-looking guy lah! But it was also the way I saw him with his parents. He's family-oriented, humble, down-to-earth.
We've been married for 19 years. I first had our daughter, Batrisya. Our son Akif was born 6 years later, they have the same birthday!
When I found out Zul was repeatedly taking drugs, I was upset, disappointed, angry. I didn't expect him to relapse. During those periods, it was mentally torturing for me as I had little support.
I struggled with finances as I had to support my children. I sought financial help, and the parents also helped me. I rented out a house so I could pay a maid. It was too hard to cope – I was working by myself, and my mother-in-law is not young either.
Even though I can show that I'm strong, I still have to go step by step. Work, children, husband – I have to be mentally strong. Family is very important. Once you break the family up, habis (that's it). So, despite the challenges, I hold on to the value of family. For example, I would bring the parents along for our Tele-visits with Zul. During these calls, Zul and I try to support each other in our issues.
For face-to-face visits, when you meet through the glass, you can't help but feel fed up. There is no touch, no feeling. I told him to stop this, and not let his kids grow up seeing him through the glass.
It occurred to me that since he's been in, out, in, out of prison, I could have found someone else, but I did not want to. I realised the children need their father, and he is a family man at heart.
Although it has been a difficult journey, what kept me going was believing that one day, Zul would change. I set a goal; I visualise the things I want. I try to set things in place for the family. My plan for us is to be a happy and united family as we move forward together. My desire is for Zul's parents to be proud of their son too.  
If Zul can be a mentor to others, it would be good for the community. As a wife, I believe in second chances. I encouraged Zul to take counselling courses so he can contribute to society in a meaningful way.
We want to see the children grow and be good people. I want Batrisya and Akif to get their degree and have a good life… apply their experiences to helping others. I don't want them to struggle like I did. This is the life I've been through; they don't have to repeat the cycle. They can be proud of themselves for achieving their goals. One day, I hope they will appreciate what we have done for them. 
The journey may be long and difficult, but I encourage those whose family members are incarcerated to never give up: Seek professional help like counselling when needed and remember you are never alone. Through my story, I hope to inspire others. All this while I've been getting help, but now it's time for me to help others.
"Kor Kor, thank you for giving up your leg for me."
Known as a swimming champion to his childhood friends, Tan Lee Chiew's lifelong ambition was to become a professional diver. However, he was introduced to drugs by his peers, and everything spiralled out of control. His brother, heartbroken over Lee Chiew's drug addiction, attempted suicide. He survived, but was left a paraplegic with mental health issues.
Lee Chiew had tried to grab onto his brother but failed, ultimately witnessing his fall from the 4th floor. Wrecked with guilt, he blamed himself for his brother's predicament. In prison, he found God and the strength to overcome the urge to take drugs. After asking his brother for forgiveness, they reconciled.
While on the Work Release Scheme (WRS), Lee Chiew learned that his father was diagnosed with terminal kidney failure. There was nothing he could do for the father he loved dearly. He suffered another blow last year with the passing of his father, who had wanted to see him complete the WRS programme.
"I was able to return home to spend quality time with my father. Although my father was not healed eventually, I am truly grateful to God for the opportunity to journey with him until his last breath. He provided me the chance to be with my father, to see him for the last time and even be present at his wake."
Lakeside has been working steadily with Lee Chiew, providing counselling and case management. He felt the sessions were helpful as he could turn to his case manager for support whenever he felt downcast or overwhelmed. He no longer bottles up his feelings, and learned to focus on his motivations for staying drug-free.
Today, Lee Chiew is on a better path, volunteering with other ex-inmates to serve the elderly and training to become a volunteer counsellor. He leads a quiet life at home, fulfilling his father's last wish by taking care of his mother. He is also active in church activities and swims in his free time.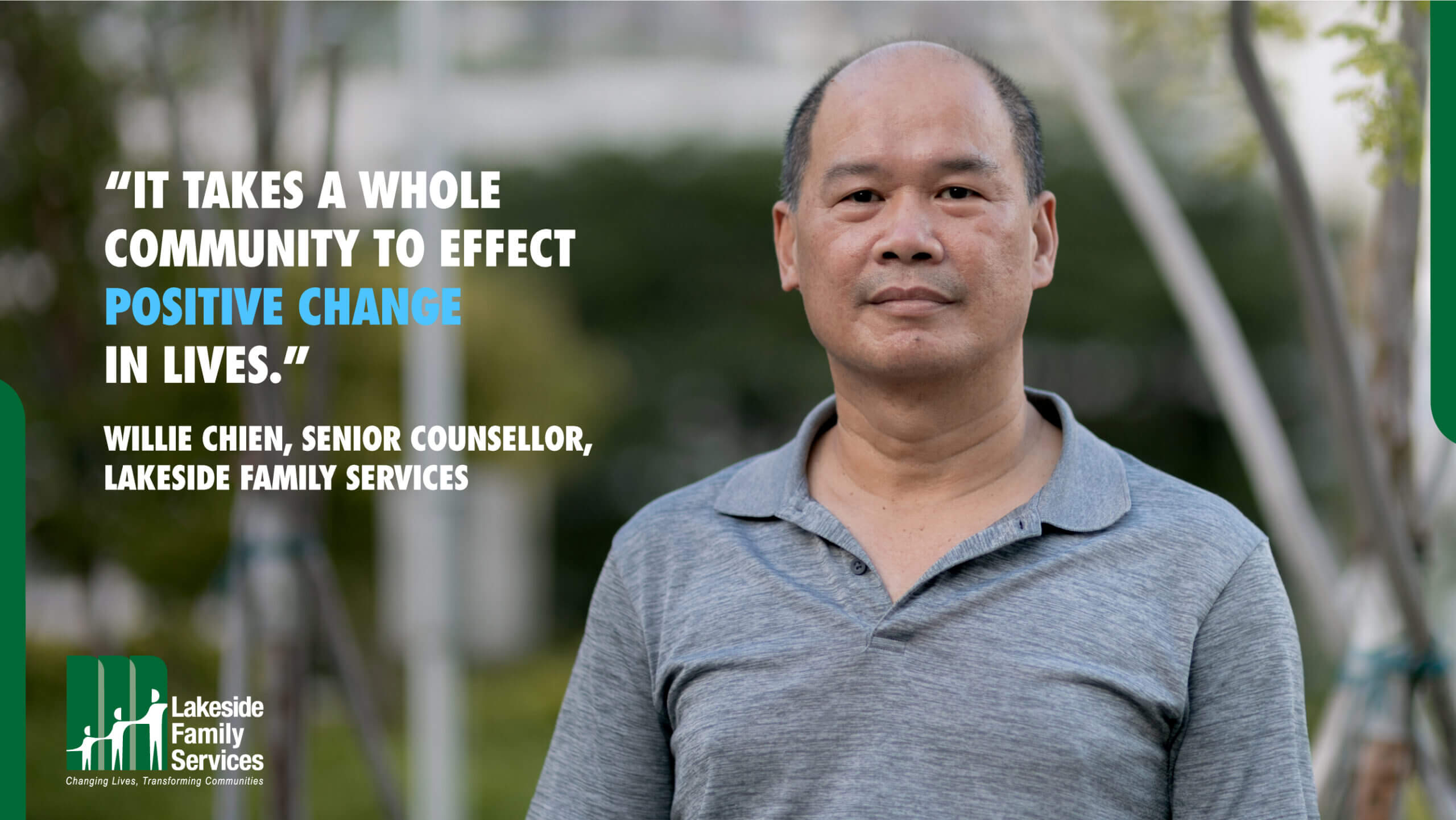 "It takes a whole community to effect positive change in lives."
I am determined to walk 100,000 steps (80km) for (ex-)inmates and families. Rain or shine, I have taken leave to go on 5 long walks, with at least 20,000 steps each time.
Having served prisoners since 2015, I have a fond memory of an older ex-inmate. He was by himself, with no place to stay upon his release. Due to health issues, he feared he would not be able to survive on his own. Eventually, I found a nursing home that gave him a place to stay.
On the day of his release, I accompanied him to the nursing home. I saw how his face brightened up when he was shown his new home! He was very thankful for my help. That's the joy and satisfaction of working with the incarcerated.
On 23 Oct, I will walk 35km from Lakeside to Changi with a few like-minded fellows. Nothing can relieve my body aches more than knowing you give because you believe in what we're doing. We can't do all these works alone. It takes a whole community to effect positive change in lives.
"The journey to reintegration is long, but it begins with a single step"
I made a mid-career switch at the age of 45 to become a social worker. It has not been easy but it opened my eyes to the struggles that some individuals and families face daily, and I learned to be grateful for the little things I have in life.
As caseworker under the Prisons Team at Lakeside Family Services, I work with inmates under the Work Release Scheme to help them reintegrate into society. It was the first time I saw how prison looks like from the inside and had a glimpse of the challenges in their lives.
It has been a very satisfying journey, especially when I saw how a supervisee who lived a life of drugs and crime changed his life around, after he scored straight 'A's in prison school, and realised he could study! He studying social work course (YES!) and his dream is to help those going through the same struggles and give back to society.
It is a beautiful story and there are a lot more, of inmates overcoming their addictions and the families who did not give up on them. They need your support & encouragement and your donation will go a long way.
To my family, friends, ex-colleagues, ex-students, and all whom I have crossed paths with, thank you for journeying with me. I am grateful for your contribution to support my 35km walk from Lakeside to Changi Prison. Thank you!
"When we look beyond the label, we'll discover the potential to change, inspire and guide others."
I am a counsellor currently working with inmates and their families, where I provide services such as case management.
In the course of my work, I have encountered several challenges faced by the inmates and their families. Amidst the challenges, I have also witnessed their tenacity and strength, including their hopes, dreams, and aspirations, such as becoming a volunteer counsellor to give back to society meaningfully.
Please join me as I embark on this campaign to raise funds to help ex-inmates and their families. Even a little donation goes a long way in helping them fulfil their dreams and raise awareness that beyond the label, lies someone special like you and I: A son, a father, a husband longing to make their family proud once again.
Thank you for reading and for your generous donation. It is certainly much appreciated.
Lakeside is able to provide quality services such as casework and counselling for inmates because of everyone's support!
We are pleased to share with you the warm feedback our staff have received from three inmates: One who has never had counselling, one who successfully completed a programme for the first time, and one who says his life was "filled with angst" but he finally found "confidence and faith in life".
More stories coming soon…